First, the Science career magazine has a good article, "Careers in Statistics Evolve and Expand," with job growth projections and a few interviews. However, there's not much direct advice on how to land one of these jobs.
Meanwhile, I've received a couple more emails asking how best to prepare for Statistics careers. If you're an employer, or a recent graduate, do you have any advice to share?
First email:
I am working in the area of cancer research. After spending some time doing clinical data analysis and working on genomics, I realized data analysis is something I really enjoy. I have already started learning Python and R. But considering my background and no proper academic training in math/stat, how do I go about getting a job in industry related to big data? Do you think getting a Master's would help? Even for Master's I would need undergrad courses in Math/Lin Algebra.
My response:
Python and R are great tools to work with, so it's good that you've been learning those.

What kind of big data jobs are you interested in? Unfortunately, I don't have too much advice about industry jobs, since my time has been mostly in government and academia.*

In general, I think there's great value in having a rigorous statistics background when doing data analysis, so that you know the limitations of your data and your conclusions. However, some employers might prefer you to have expertise in fast algorithms or big-data tools like Hadoop (which most statistics Masters programs don't really cover). If you'd like to work in such positions, you may prefer to focus on learning programming or computer science.

If you do go for a Masters in statistics, you will definitely want to brush up on calculus and linear algebra. These mathematical foundations are needed for stating (and proving) core concepts in statistics.
Second email:
My undergraduate degree is in a humanities field, but I have been taking computer science, stats, and math courses so that I could apply to either a Masters in Comp Sci or in Statistics. I really enjoy stats, and I have done well in all of my stats classes, including a graduate level course. It also fits in well with my interest in information and how to understand and manipulate it in order to make it understandable.

I feel like my interests and background make the Applied Statistics degree more what I am looking for. I am also thinking that the online option might be a good idea because it would allow me to build my contacts through part-time work or internships.

Anyways, since you have such as varied background, I am wondering what your thoughts are on the professional Masters in Applied Statistics program and whether it would be a way for me to get into the stats field, or if it is looked down on by employers? Also, what do you think of the residency vs. online options?
And my response:
Do you know what you'd like to do in statistics, once you have the degree? Are you interested in academia, industry, consulting, government, healthcare, etc?

My work experience was in government, where the hiring standards are pretty explicit. For example, most Masters programs would prepare you well for work at the Census Bureau at the GS-09 grade level, as I did with my Masters. Here's the job posting and other related opportunities. As long as the online program is properly accredited, the fact that it's online shouldn't matter for government jobs.

But I don't have much experience with industry jobs, and hiring there has changed a lot in the 5 years since I last applied for jobs.* Google searches for "data scientist" only picked up around 2012 🙂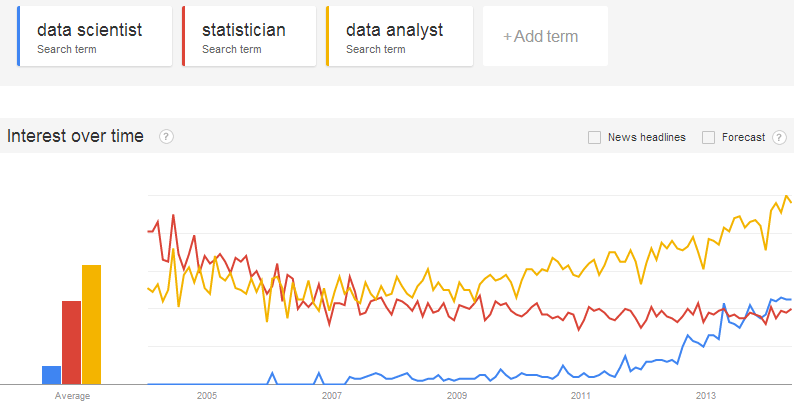 Finally, just in case you haven't taken online courses before, I'd recommend trying some before you sign up for an all-online degree. Personally I've found I learn much better when I come to class regularly and talk to professors in person. But if that's not an issue for you, then it sounds great to have the flexibility to do part-time work or internships. That kind of practical experience should help a lot on the job hunt too.
*Clearly, I should really ask one of our recent graduates from CMU's 1-year Masters in Statistical Practice to write a post about their experience on the job hunt this semester. They'd have a much better idea of how prospective employers today look at stats Masters degrees.
Related posts:
For CMU specifically: