I saw this typo for Chi Square a while back and thought it'd make a great recipe idea. Turns out I was right: these bars won a prize at my department's World Statistics Day bake-off.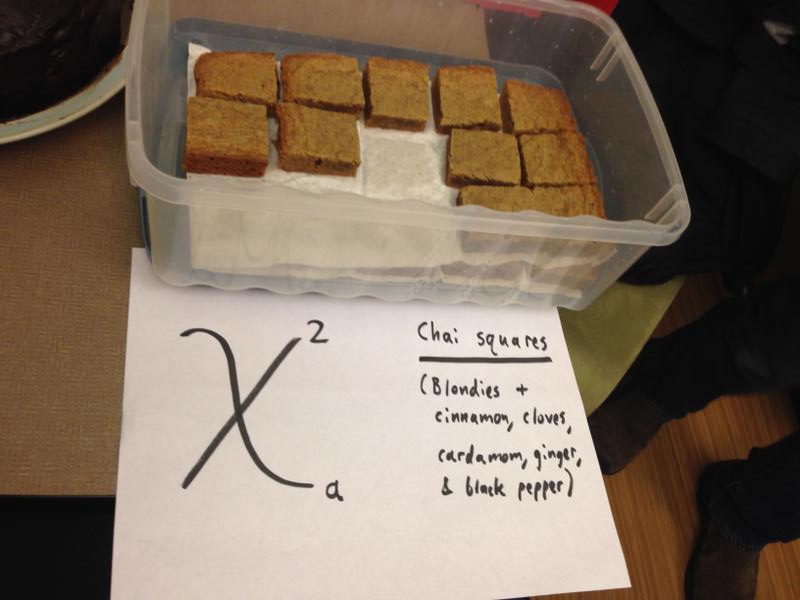 Start with Mark Bittman's blondie recipe (copied/adapted from here), and add some of the spices that go into chai tea.
8 tablespoons (1 stick, 4 ounces or 113 grams) butter, melted
1 cup (218 grams or 7 3/4 ounces for light; 238 grams or 8 3/8 ounces for dark) brown sugar
1 large egg
1 teaspoon vanilla
Pinch salt
1 cup (4 3/8 ounces or 125 grams) all-purpose flour
1/2 teaspoon cardamom
1/2 teaspoon cinnamon
1/2 teaspoon ground ginger
1/2 teaspoon ground cloves
scant 1/2 teaspoon fresh ground black pepper
Preheat oven to 350°F. Butter an 8×8 pan, or line the pan with aluminum foil and grease the foil.
Mix melted butter with brown sugar. Beat until smooth. Beat in egg and vanilla.
Combine salt, flour, and spices. Gently stir flour mixture into butter mixture.
Pour into prepared pan. Bake 20-25 minutes, or until barely set in the middle. Cool on rack before cutting them.
Enjoy!