Hats off to my classmate Alex Reinhart for publishing his first book! Statistics Done Wrong: The Woefully Complete Guide [website, publisher, Amazon] came out this month. It's a well-written, funny, and useful guide to the most common problems in statistical practice today.
Although most of his examples are geared towards experimental science, most of it is just as valid for readers working in social science, data journalism [if Alberto Cairo likes your book it must be good!], conducting surveys or polls, business analytics, or any other "data science" situation where you're using a data sample to learn something about the broader world.
This is NOT a how-to book about plugging numbers into the formulas for t-tests and confidence intervals. Rather, the focus is on interpreting these seemingly-arcane statistical results correctly; and on designing your data collection process (experiment, survey, etc.) well in the first place, so that your data analysis will be as straightforward as possible. For example, he really brings home points like these:
Before you even collect any data, if your planned sample size is too small, you simply can't expect to learn anything from your study. "The power will be too low," i.e. the estimates will be too imprecise to be useful.
For each analysis you do, it's important to understand commonly-misinterpreted statistical concepts such as p-values, confidence intervals, etc.; else you're going to mislead yourself about what you can learn from the data.
If you run a ton of analyses overall and only publish the ones that came out significant, such data-fishing will mostly produce effects that just happened (by chance, in your particular sample) to look bigger than they really are… so you're fooling yourself and your readers if you don't account for this problem, leading to bad science and possibly harmful conclusions.
Admittedly, Alex's physicist background shows in a few spots, when he implies that physicists do everything better

(e.g. see my notes below on p.49, p.93, and p.122.)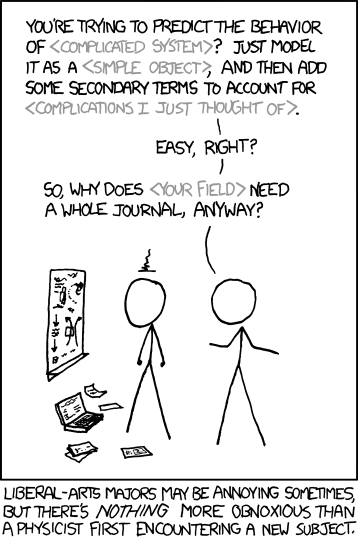 Seriously though, the advice is good. You can find the correct formulas in any Stats 101 textbook. But Alex's book is a concise reminder of how to plan a study and to understand the numbers you're running, full of humor and meaningful, lively case studies.
Highlights and notes-to-self below the break:
Continue reading →