The Census Bureau is beta-testing a new API for developers. As I understand it, within hours of the API going live, Jan Vink incorporated it into an updated version of the interactive maps I've discussed before.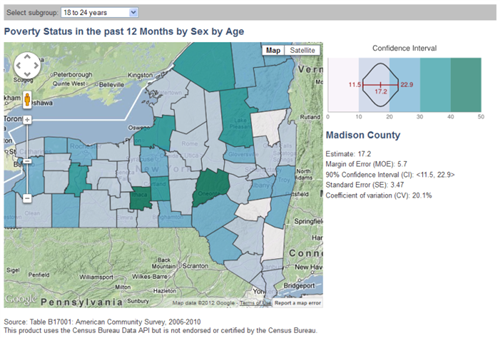 I think the placement of the legend on the side makes it easier to read than the previous version, where it was below. It's a great development for the map — and a good showcase for the Census Bureau's API, which I hope will become ready for public use in the near future.
I'd love to see this and related approaches become available in several environments or frameworks for online/interactive mapping tools. One possibility is to make widgets for the ArcGIS Viewer for Flex platform, which works with ESRI's ArcGIS products.
Another great environment I'm just learning about is Weave. This week the Census Bureau is hosting Dr. Georges Grinstein, of the University of Massachusetts at Lowell, who is building a powerful open-source platform for integrating and visualizing data. This is being developed alongside a consortium of local governments and nonprofits who are using Weave for information dashboards, data dissemination, etc.
It seems to be a mix of Actionscript, Javascript, and C++, so extending Weave's core functionality sounds a bit daunting, but I was very glad to see that advanced users can call R scripts inside of a visualization. This will let you analyze and plot data in ways that the Weave team did not explicitly foresee.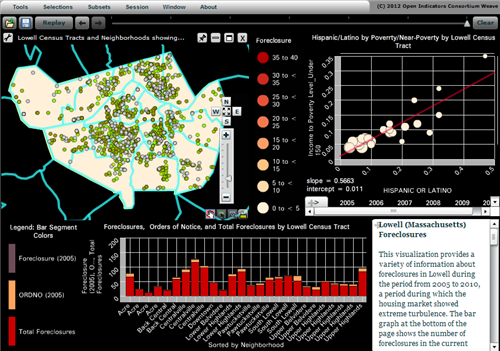 In short, there's plenty of exciting work being done in this arena!